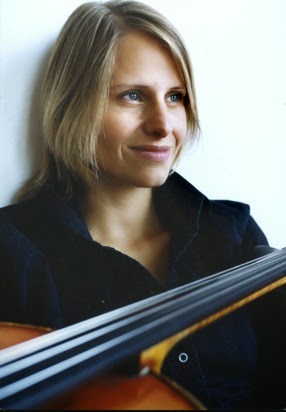 Alongside the great pillars of the repertoire which she defends with sensitivity (J.-S. Bach, Ernst Bloch, Schubert, Beethoven, Mendelssohn, etc.), commitment, rigor and invention alongside the Trio Élégiaque, (Russian, Balkan), Hebrew music, French composers to be rediscovered (Reber) or to discover (Kaufmann, Dusapin , etc.).
The evocative titles of her recordings – propitious to change of scenery and dream – tell the curiosity but also the energy of Virginie Constant, her taste for others and elsewhere, her sensitivity to the unusual worlds: "imaginary memories", "crosses" , "Garden of Eden", "Hourglass of Time", "Tales of the Balkans", etc.
"Who dares to dedicate an entire recording to the violoncellist voice of Judaism by meansof the sweeping Sonata – the first in a series of four – that Mieczyslaw Weinberg composed in 1960? Virginie Constant, who places this obscure work at the climax of her recording, so demanding for her instrument to the point of exposing it. A courageous album, perfectly achieved, demanding and masterfully accomplished (…). In "Voice of the Desert", always recorded in its version for orchestra, Zara Nelsova and Janos Starker are unforgettable; Virginia Constant is severe, comprehensibly being this the world premiere with piano solo: the great interludes that Bloch entrusts to the piano solo, reproducing the entire orchestra, will constitute the fulcrum of one of his main piano works, "Visions and Prophecies". Everything broadening the orchestral scale can be summarized here with a more powerful expression: a differently essential music that the cello must support alone, to which it must be able to associate an atmosphere, a performance intensity and communicative talent that the French cellist fully possesses.

(…) A few days later, an amazing cello sound encouraged me to listen to the Schubert Trios Opera Omnia. Who plays so, so deeply in the strings and yet so subtly dominates and shapes the melody? Virginie Constant!"
Jean-Charles Hoffelé – February 10, 2018 – Artamag'